Hand Sanitizing Gel 500 ml
Hand Sanitizing Gel 500 ml
Mineral Leaf hand sanitizing gel
With Aloe Vera, Vitamin E, Alcohol 70%

Thanks to an advanced alcohol-based formula with sanitizing [hygienic] properties, the Hand Sanitizing Gel is ideal for cleaning hands without the need for rinsing
Infused with Aloe Vera and vitamin E, it leaves the skin smooth and moisturized, even in case of frequent use. Alcohol 70% Vol.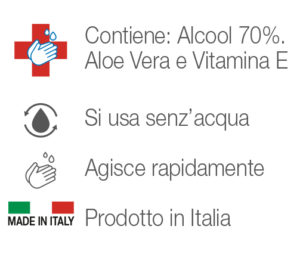 Description
Warning: EXTREMELY INFLAMMABLE. Keep out of reach of children. Do not inhale. Do not use in the eyes – face – mouth and on irritated skin. Do not expose to a naked flame. Keep it away from hot surfaces, naked flames and sparks. Do not smoke. Store at a cool temperature.
Protects from direct sun rays. Use only as indicated.
Direction for use: Cover the whole surface of your hands with the gel and rub all over for few seconds. No rinse.
INGREDIENTS inci (CTFA): ALCOHOL DENAT. AQUA(WATER), GLYCERIN, COCO-CAPRYLATE/CAPRATE, CARBOMER, PARFUM/FRAGRANCE, AMINOMETHYL PROPANOL, COUMARIN, TOCOPHERYL ACETATE, PROPYLENE GLYCOL, ALOE BARBADENSIS EXTRACT.

PHILIP J S.R.L. Strada Martinella, 85 • 43124 • PARMA • IT • Loc. Alberi di Vigatto • Tel. +39 0521 977674 • info@ mineraleaf.it • P.I.: 02920230345
Privacy Overview
This website uses cookies to improve your experience while you navigate through the website. Out of these cookies, the cookies that are categorized as necessary are stored on your browser as they are essential for the working of basic functionalities of the website. We also use third-party cookies that help us analyze and understand how you use this website. These cookies will be stored in your browser only with your consent. You also have the option to opt-out of these cookies. But opting out of some of these cookies may have an effect on your browsing experience.
Necessary cookies are absolutely essential for the website to function properly. This category only includes cookies that ensures basic functionalities and security features of the website. These cookies do not store any personal information.
Any cookies that may not be particularly necessary for the website to function and is used specifically to collect user personal data via analytics, ads, other embedded contents are termed as non-necessary cookies. It is mandatory to procure user consent prior to running these cookies on your website.